As a Tasker, you are an entrepreneur and in control of your schedule.  You alone are in charge of setting your scheduling availability for when you can complete tasks and let Clients know that you are available to respond to task invitations. The platform offers you two key scheduling tools to accomplish this: Available to Respond and Availability.
Making Yourself Available to Respond
If you would like to receive notifications for tasks, you'll need to turn on your Available to Respond toggle.  When your Availability to Respond option is turned on, this means that you have decided you are available to respond to task invitations with at least one chat message within 30 minutes of receiving the invitation. Feel free to toggle it on and off as much as you like based on your availability to respond.
The Availability to Respond toggle can be accessed from the "Get Invitations" screen of your Tasker app.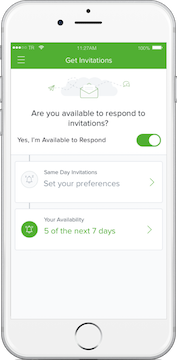 Setting Your Availability 
Open the "Get Invitations" tab of your Tasker app. 




Tap on "Your Availability"




Tasks that you have scheduled will appear in green.
When scheduling a task, you will be asked to estimate the time the task will take. Should the start time or estimated task length change while you chat with your Client, you can tap on the task here and adjust it.  








Set your Available area in blue




Blue lines under a date indicate days that you have set Availability for that date