Hiring a Tasker is simple, and only requires a valid credit card. You will not be charged until after the task is finished. You can book a Tasker up to 15 days in advance using the web or your mobile app. 
In some cities where we operate, you will have the option to book a Tasker for Same Day help. Please check this article for a full breakdown of which TaskRabbit services are available in your city. 
Please note that Taskers set their own hourly rates, and therefore these rates will vary by Tasker. 
Once you hire your Tasker, you will have the opportunity to chat with your Tasker about the your task details so that both of you can make sure that the task is a good fit. Please note that your Tasker may forfeit the task if you do not respond to chat messages. You can find more information about chatting with your Tasker in this article. 
Below, we'll walk you through how to hire a Tasker for future date on your mobile app, as well as on the web.

How to Hire a Tasker for a Future Date on Mobile:
From the home screen on your mobile app, please be sure to verify your task location in the upper left corner. The task location will automatically default to your current location.
You can update this by simply tapping the Task Address field. For convenience, you can save frequently used locations such as your home or work.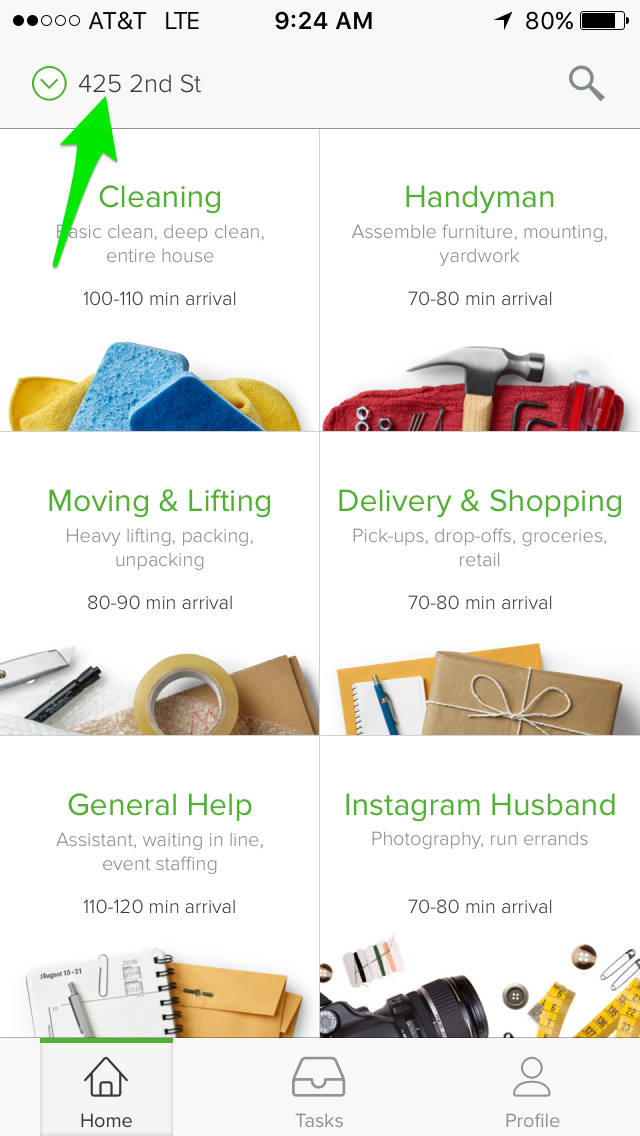 Next, select the category that best suits the job. You can select a category from one of the suggested titles or by utilizing the search bar (located in the top right corner) to receive a list of the closest matches.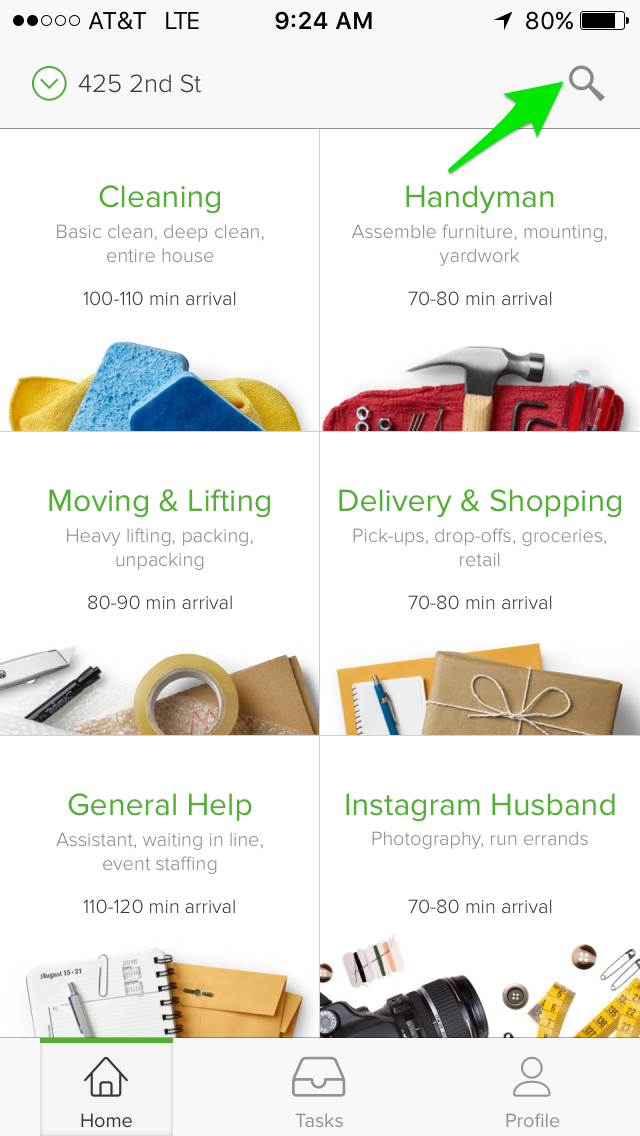 To book a Tasker for a future date, please tap the Schedule tab (see the screen shot below) then click on the green link below that reads Select a Time & Date. After setting your time and date, hit the save button at the bottom of your screen.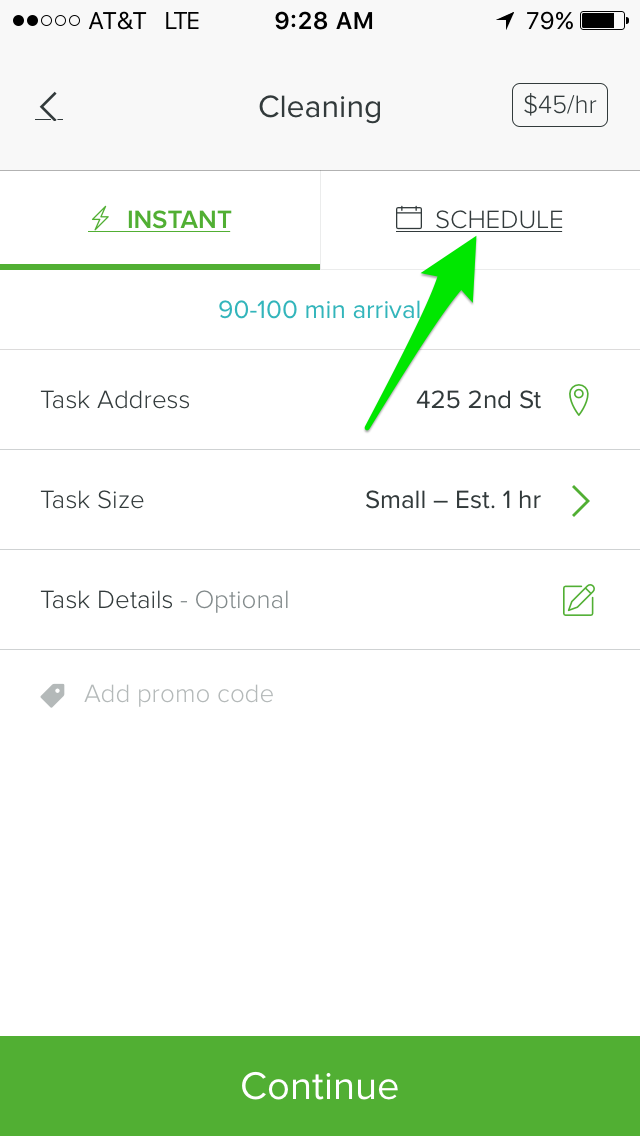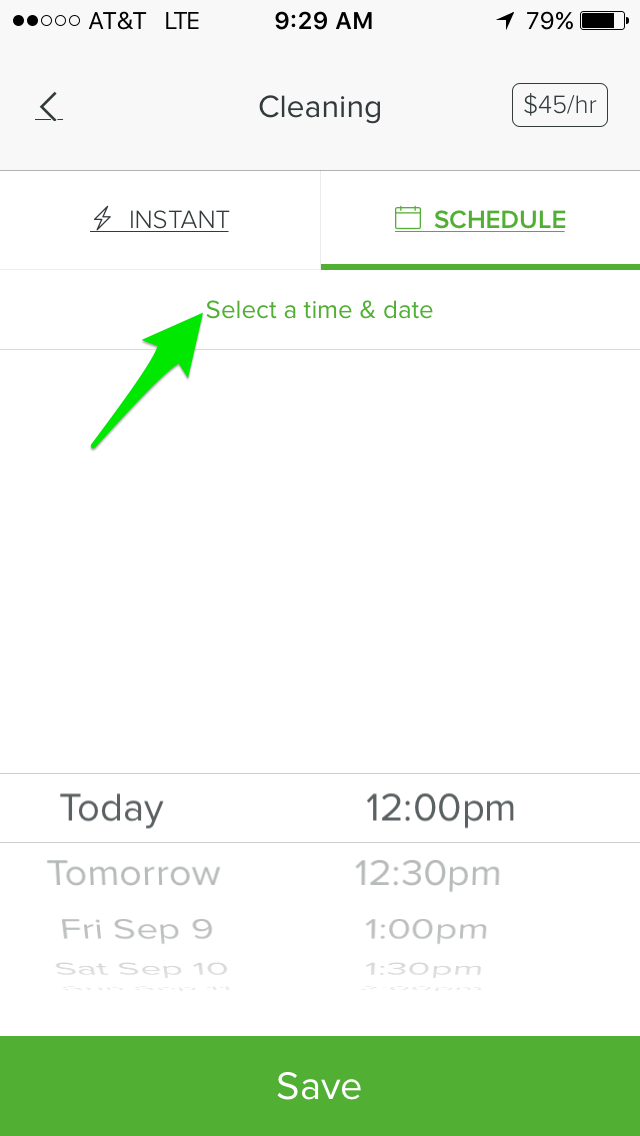 Next, you will have the opportunity to enter more information about your task, including task size, extra details, and any promotional codes. We recommend including as much information about your task as possible for the best results.
To finalize booking, click Continue at the bottom of your screen. You will not be charged until your task has been completed. However, please note that we do have a 24-hour cancellation fee policy once your task is scheduled and confirmed by you and your Tasker. 
You will see recommendations for Taskers, including their reviews and number of tasks completed. Click on the Tasker's image, and you will be able to see more detail about them. Taskers that you have hired before will say "Book again".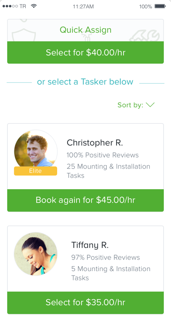 In some cities you will see the option for Quick Assign, which is where we send your invitation to local Taskers in the area, and a Tasker will assign themselves to your task if they have the necessary experience to complete your task. You can learn more about Quick Assign here. 

Once you select "Book" or "Book again", you'll be taken to a "Confirm and Book" screen, where you can review the task details before hiring your Tasker.
How to Hire a Tasker for a Future Date on the Web:
First, you'll need to visit us at taskrabbit.com (or taskrabbit.co.uk if you're in London).
To begin the booking process you will need to select a task category. You can start by using the search bar to browse categories or you can select from one of the suggested categories.
Next, enter details about your task, including when you'd like it done and where the task is located.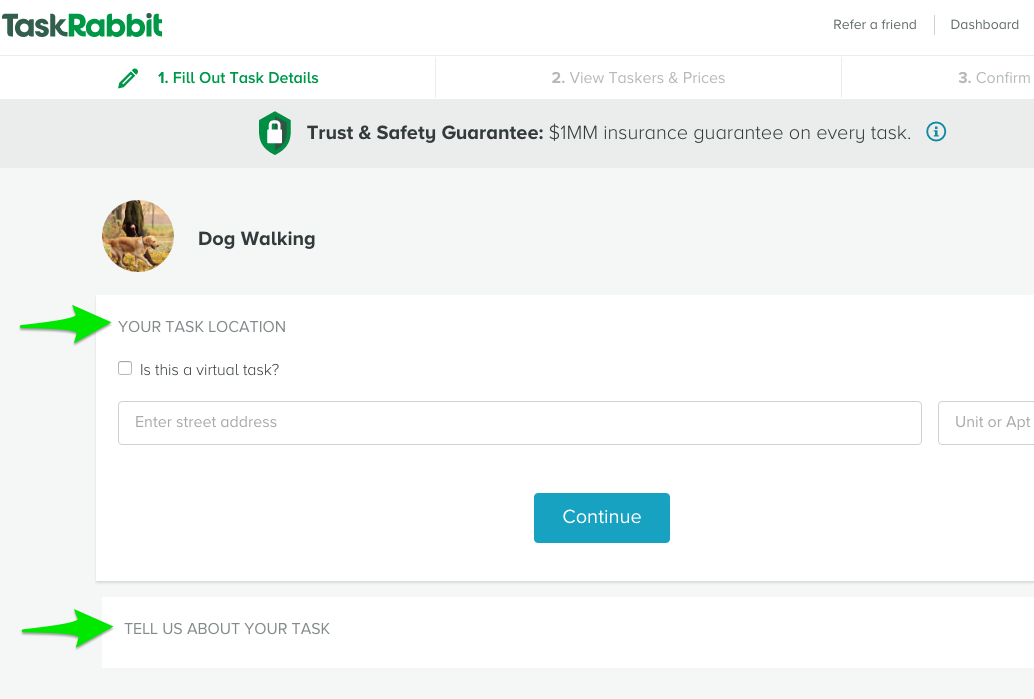 After clicking Save, we provide a list of Taskers who have indicated they have the skills to take on your task. Check their profiles to read reviews, see hourly rates and determine if they're a good match for your task.
If your task requires specific skills that you're not seeing in Taskers' profiles, you can also send the task out to the community by selecting the Quick Assign option. Please note that the Quick Assign option is not available in all cities. 
Click Select & Continue to review a summary of your task before booking. On this page, you will also have the opportunity to enter a promo code at the bottom of the form.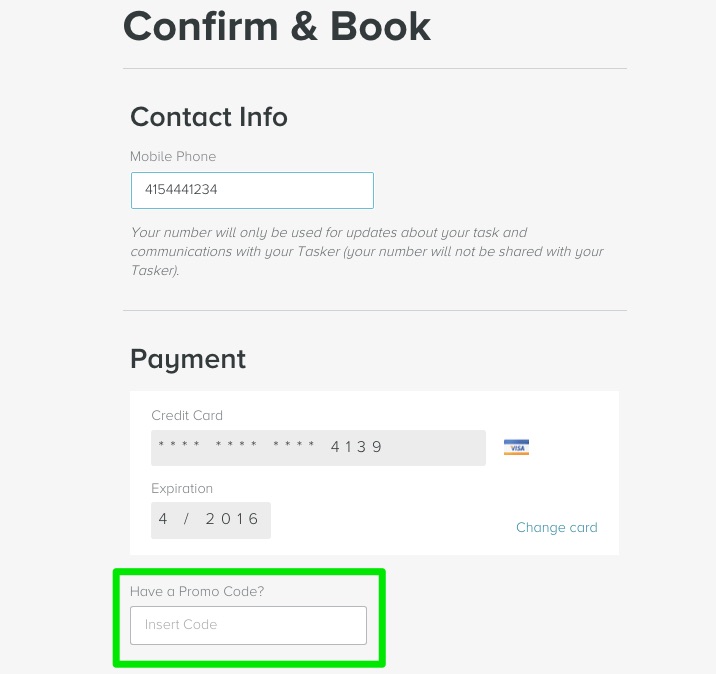 Once you've hired a Tasker, you and your Tasker can use the chat feature to sort out any additional details.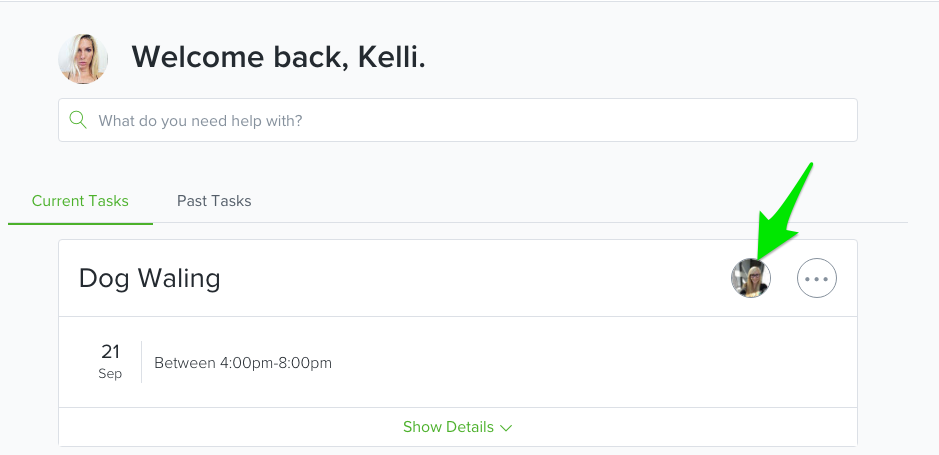 If you Tasker is unable to perform the task, they will forfeit the task which will allow you the opportunity to rebook the task. 
After your Tasker has worked on this task, your Tasker will submit the number of hours worked, and you will be able to pay them securely through the site.